>> CLICK HERE FOR THE CPAM EXCLUSIVE TOP TEN <<
>> CLICK HERE FOR THE UNIVERSAL SMALL & MEDIUM TOP TEN <<
KLONDIKE, CP Army Media HQ – As CP Army Media strives to recognise the existence of armies as a CPPS multiverse, for the first time CPAM has put together a universal Top 20. Armies affiliated with CPOAL have been denoted with 'CPO', while armies that use PS, CPR and/or CPATG have been denoted by 'CPAM'. There are some interesting switches near the top this week.
● 1.
Pirates

[137.75]

[CPO]
↑ 2.
Doritos

[131.00]

[CPO]
↑ 3.
Rebel Penguin Federation

[123.12]

[CPAM]
↓ 4. Dark Warriors [109.90]
[CPO]
● 5.
Ice Warriors

[95.28]

[CPO]
↑ 6.
Golds

[85.94]

[CPO]
↑ 7. Night Warriors [79.16]
[CPO/
CPAM]
↓ 8.
Army of Club Penguin

[74.34]

[CPAM]
↓

9
.

Light Troops

[73.00]

[CPO]
● 10.
Redemption Force

[66.50]

[CPO]
↑ 11.
Help Force

[64.20]

[CPAM]
↓ 12.
Special Weapons & Tactics

[61.50]

[CPO]
↑ 13.
Skaters

[61.00]

[CPO]
↑ 14.
Golden Guardians

[56.00]

[CPAM]
● 15.
Recon Federation

[54.02]

[CPAM]
↓ 16.
Marines

[53.00]

[CPO]
↓ 17.
Chaos

[50.43]

[CPAM]
↓ 18.
Templars

[46.00]

[CPAM]
● 19.
Aliens of CPO

[44.50]

[CPO]
↓ 20.
Royal Family

[44.16]

[CPO]

Click here to see the calculations/statistics.

<><><><><><><><>

1. Pirates: The Pirates had another successful week and come out first in the top 20. They started the week with an 'Operation: Blue' event and hit sizes of around 115. They then reached similar sizes of 110 in their invasion of Winter Land on the following day, showing consistency in large sizes. The Pirates' next event was an invasion of Polar, in which they averaged around 110 yet again. To finish the week, they continued to expand their nation and invaded Jack Hammer, in which they reported to max 114 Pirates. The Pirates will look to continue this performance in the coming weeks.
2. Doritos: The Doritos had a quiet week and only had two events. The first of the events was an invasion of Rocky Road, reaching sizes of 110. Their second and final event included a 'nachos uniform' theme, with sizes also of 110. Will the Doritos manage to maintain these sizes over more events?
3. Rebel Penguin Federation: The Rebel Penguin Federation started the week off maxing 60 in their AUSIA Shark Boy and Lava Girl event. Tuesday was a huge day for RPF where they broke the record for the largest AUSIA event maxing 89 and later that evening they maxed 100 in a cowboy event. The next day RPF maxed 97 in an EU event. On Thursday held a find four event maxing 89. Friday which was RPF's 13th anniversary started off with an AUSIA event which a max of 71 and the invasion of Crystal CPR which they maxed 98. For their last day RPF held an AUSIA stamp event maxing 58 and an EU division battle to end out the week where RPF maxed 80.
4. Dark Warriors: The Dark Warriors continue to provide competition at the top, but drop below RPF this week. They began with an AUSIA event, reaching sizes of around 60. The Dark Warriors then began to expand their nation as they invaded Outbook with sizes peaking at 100. To follow this up, they undertook AUSIA igloo raids with sizes of 50. Other events in the week included two other AUSIA events with sizes of 50-60, and a US event with sizes of around 90. It has been an historic week for the Dark Warriors, as it ended with the retirement of powerful leader Freezie.
5. Ice Warriors: Ice Warriors of CP had 4 events this week. They started their week with a Battle against the Dark Warriors in which they maxed 65. Progressing with the week, they had a Huge Training event in which they maxed 55 Troops. Ice Warriors invaded Aurora from the Templars maxing around 78 Troops. They had 2 events to end their week in which they maxed 72 and 75.The Ice Warriors finished the week by announcing that an eight person would join their leadership, Shinde. 
6. Golds: The Golds Army of CPO started their week with an Invasion of Fiesta in which they maxed 60. Progressing with the week, they invaded Whiteout maxing 55, and had a Huge Training in which they maxed 65. They logged into Abominable and claimed it maxing 50. Golds ended their week by doing an AUSIA Training event in which they maxed 52 Troops.
7. Night Warriors: It has been a turbulent week for the Night Warriors, who began their week on CPO and ended it on CPR/PS. All of the NW events were US and UK based this week. In two of these events they managed to hit sizes of up to 65. In their third event, the Night Warriors maxed around 40. The new NW leadership hopes to find success with their launch event on CPR later today.
8. Army of Club Penguin: Fresh from declaring army independence, the Army of Club Penguin kicked their week off with an End of War/Independence Party, at which they hit 37 penguins. A Troop U-Lead the following day witnessed a peak of 50, and several moderator-lead events on Tuesday saw sizes of 42, 39 and 42. On Wednesday, guardian Mchappy awarded Bronze Medals to leader Csy and second-in-command Max, and later a mermaid-themed birthday party was held for Max. Their busy week ended with a 'Diversity Parade' which aimed to celebrate the unique identities present in their community.
9. Light Troops: The Light Troops had 3 events this week. They started off a Massive Battle preparation in which they maxed 55. Progressing with the week, they had a Training event in which they maxed 50 Troops. To end their week, they had a Battle against the Redemption Force in which they maxed 53 Troops.
10. Redemption Force: The Redemption Force only managed to hold two events this week, but put together some good performances in those events. These were two training sessions, with sizes hitting a maximum of 45 in one, and just over that reaching 48 in the other. RF hope to continue to prove their strength into future weeks.
11. Help Force: Help Force started their week with a Monday Supernova AUSIA event, maxing 25. On Tuesday, they held a US Cowbell event with a max of 32, and a Card Jitsu tournament maxing 20. Wednesday also had 2 events: an AUSIA Violin event hitting a max of 34 helpers, and an EU uniform event with a max of 24. On Thursday, Help Force had an EU event with the Camera item maxing 33, and a US uniform event, maxing 19. Friday wrapped up the weekdays with an AUSIA Invasion of Cold Front, having a max of 21, and an EU Invasion of Skates, maxing 28.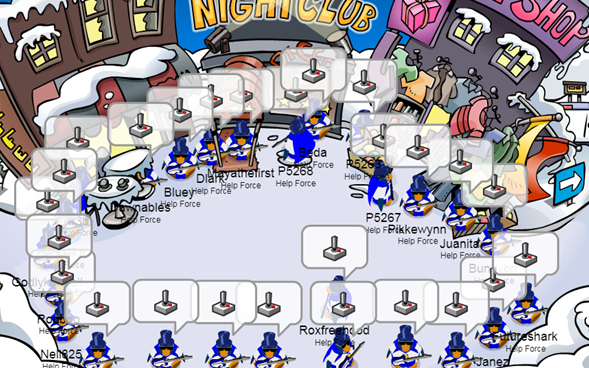 12. Special Weapons & Tactics: It has been a tough ride for S.W.A.T this week, as Badboy and Zuke battled out for control over the army. SWAT had a decent week and managed to hold four events despite this. They held US Training sessions with sizes of 29 and 40 at the start of the week. This was then followed by a UK/US event with sizes of 32, and another US training maxing around 45.
13. Skaters: The Skaters had an impressive week and move up the rankings, following the merge of the Sinners into this army. In their two events during the week, they started by managing to reach sizes of 37 in their first event since the merge. Their second training event was even larger, as they topped 40 online. The Skaters will hope that this will be the start of things to come in the future.
14. Golden Guardians: Making their Top Ten debut, the Golden Guardians opened their doors this week with a practice battle against the Metal Warriors, maxing 25. Two days later they invaded CP Rewritten's server Sleet with a peak of 33. A similar size of 30 was seen at their invasion of Frostbite the next day.
15. Recon Federation: The Recon Federation's busy week started with an AUSIA division invasion of the Lime Green Army, at which they maxed 21. Two further invasions that day, at EU and US times, saw a max of 16 and 30 respectively. A US training to mark 'Star Wars Day' saw sizes of 6, while a successful EU invasion of Blizzard later in the week witnessed heights of 16. Their week concluded with a raid of the People's Imperial Confederation, maxing 13.
16. Marines: The Marines managed to find a spot in the top 20 this week, in what is their last as they announced their closure. They had two events before closing, with the first being a battle against the Golds with sizes of 30+. In their second and final event, Marines managed to average sizes of 28.
17. Chaos: A quiet week for the Chaos Army began with the army entering a state of isolation, which is planned to last until May 17th. A Star Wars Day event for the AUS division witnessed a size of 17, and a U-Lead the following day saw heights of 25. Their final event of the week on May 7th was a training session that saw a max of 19, giving the army opportunity to practice some new formations.
18. Templars: The Templars returned to CP Army Media this week and held two successful events. They had sizes of around 22 on their return event, and followed this up with a maximum of 28 on their second training session.
19. Aliens of CPO: The Aliens of CPO started off with a training event in which they maxed 20. Progressing with their week, they held an Invasion of Yeti in which they maxed 25 Aliens. To end their week, they had an Aliens Abduction event on Ascent in which they maxed 15.
20. Royal Family: The Royal Family had a good week as they managed to keep up their consistency from previous weeks. They had a US training session with sizes of 25 to start the week, and followed this up with a UK/US event with a maximum size of 20. The RF hit similar sizes of around 20 in their final event of the week, which was also a solo event.
<><><><><><><><>
The Pirates retain the top spot this week, but CPA Media armies make some big movements up the rankings as the communities slowly even out. Comment YOUR opinion on the top 20. Will the Pirates retain the top spot, or will we see changes in the future? Let us know what YOU think.
ᴋɪɴɢꜰᴜɴᴋꜱ4
CPAM Chief Executive Officer
Ayan
CPAM Chief Executive Officer
Pookie
CPAM Executive Producer
Max
CPAM Editor-In-Chief
Filed under: CPAM, Top Ten Armies