"Bye, Felecia!"
KLONDIKE, Ayan's Desk — There hasn't been a day in 27 months that I didn't want to be involved in this community. It is like a perfect global village with people with different ideals and thoughts, all of whom come together to play Club Penguin. When I joined Discord in March 2018, I didn't know what armies were. I wasn't aware of the fact that virtual penguins actually got together and spammed emotes. It took me a while to understand how these armies work. Climbing the steps of success slowly and steadily, I learned the many aspects of the army structure, and grew a liking for it. Despite my long love for this community, there comes a time when you realize that all of this is virtual, and you've not touched a book for two years. It is time for me to join several others, close the final chapter of my army career, and move on with my life. I know y'all hate long posts (otherwise CPAM's record would've been an ez 10k), but I have made an effort to make this post as concise as I can, describing my journey in this bewitching community.
–
Key Chapters
Inception: 27th February 2018, while browsing and surfing through the internet, I stumbled upon "Club Penguin Online." I used to play CP as a kid, like most of the people here, and I had a very controversial penguin name (not naming it here :P). I didn't exactly know what the situation with Club Penguin was at that time, so I tried digging into my emails and found my old login ID & password, but sadly that didn't work. Due to the player base being "rude" and refusing to help me with stamps, I decided to form a stamp group that I named "Helping Friends" (I realized the mistake in name and quickly re-branded to the "Help Force" within days), which then went on to be one of the most successful private server armies. The year 2018 wasn't too eventful for me. I learned about the army community, and built the Help Force to be successful in its own right. By the end of 2018, the Help Force climbed up to be in the top three armies at that time.
The First Fire: As rivalries within the community grew, corruption from within the league's leadership came to light. This resulted in a major exodus by several armies which took place after the Christmas Chaos of 2018. After my own failed exodus attempt that was initially under the influence of a new friend, DrFlen, I lost the Discord ownership of the Help Force server. The loss caused an uproar within the army. Stabilizing the chaos was not too difficult, thanks to the determination of the troops and staff. Building an army from scratch takes a lot of patience, and that's exactly what I did. After defeating the Modern Army Alliance which comprised of S/M armies, I inaugurated the National Army Alliance (NAA) initially consisting of the Help Force & Ninjas. The war against the Black Alliance (Pirates + LT + Templars) was aggressive, yet memorable. While we defeated the armies in the AUSIA division, I decided to pull HF out of this war due to potential bias directly from the top of the league. Even though it was a setback after my efforts, it proved to be an eye-opening incident which pushed me to stand up against corruption.
"If I were to remain silent, I'd be guilty of complicity.": Staying quiet is not an option. If something isn't right, then it ends there. There should be no "ifs" or "buts" in those situations, whatsoever. If you have been in the Army League of 2019, you would know how it used to work. There were pinged promotions in the Club Penguin Online Discord, coin events, a lack of judging panels, tournament rigging, and the curbing of media. The war pushed me to raise a voice against all of this, and that's exactly what I did. EVERYONE has the right to say what they think, and demand justice. I decided to publish a post against the inner workings of the league, which obviously was met with a lot of backlash. A handful of people supported me publicly, and the post circulated and got over 800 views within a day. My fellow friends and readers, you need to realize that until you raise a voice against something, it won't stop. Your voice matters, and deciding to watch it happen silently makes you just as at fault as the ones performing the injustice. It took us two years to unite the community, when only a few people worked against the visible corruption initially. Imagine how quicker it would've been, if every one of us who had doubts had spoken up sooner.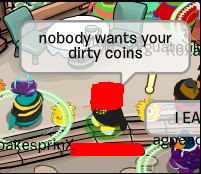 The Golden Era: Due to Help Force's determination to be successful, we grew in both size and power. At the helm was Elpiojo123, Spotty, and myself (The Triads), and together we avenged the Black Alliance armies one by one. The Light Troops shut down after we defeated them in the Summer Bash Tournament Semi-Finals. Templars, on the other hand, decided to get toxic during the several battles we had, and were banned from the community. With sizes between 60 and 80 in the Summer of 2019, the Help Force became the powerhouse of the league, holding its place as the #1 army on the Top Ten for three weeks, and defeating the Pirates to grab the Summer Bash Finals trophy. After the tournament, I decided to take a break and focus on studying.
The Exodus: In those three months of inactivity, the Help Force stood strong. Former HF leader, Spotty, contacted me on another platform about her plans with retirement. Due to the toxic atmosphere that was growing within the private server itself, I decided that the army should close its doors in December 2019. Planning for an exciting set of last events, it came to me as a shock when the league's head, Epic101, decided to make comments regarding the "takeover of the army." It was disappointing for me to see that even after three months, nothing had changed. Thus, due to the visible corruption, biased nature, oppression, and several other factors, we moved to Club Penguin Rewritten, removing all 11,000 users from the Help Force Discord owned by Epic. This came as a huge blow to the community, which resulted in several dramatic talks later on, and a reformation of the league.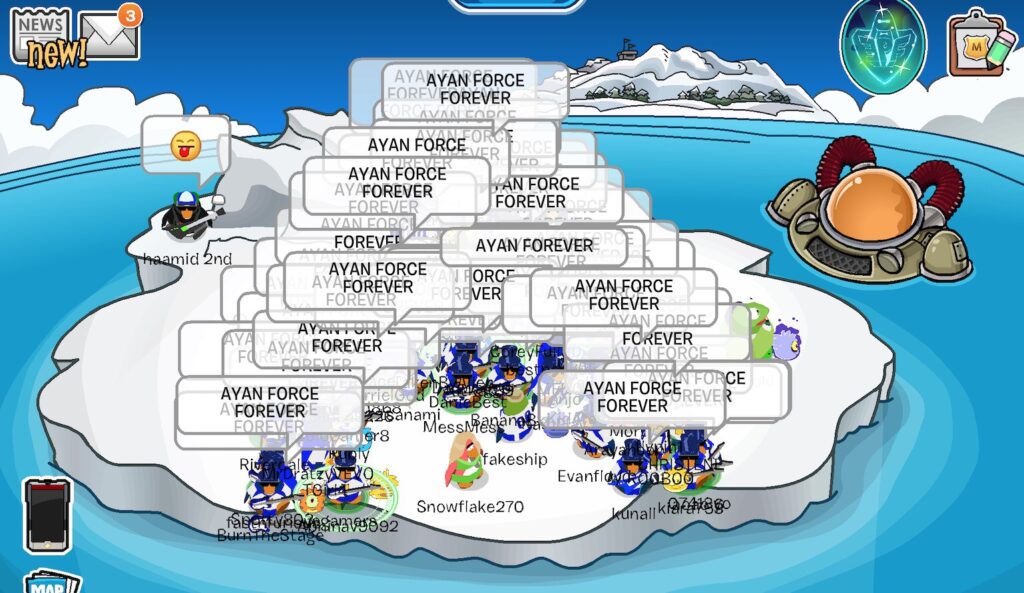 CPA League: Club Penguin Rewritten was a new and a different experience for me. The allowance of armies in a private server plays a major role in their progress. I came back to the leadership to stabilize the army, which during that time, was in Greeny's league known as "Club Penguin Armies." I expected a major size drop due to the transition, which indeed took place. The army's size went down from averaging 70 to maxing 30. In the Holiday Championship hosted by CPA, we defeated the Lime Green Army, Templars, and were eliminated after a nail-biting contest with Koloway's Army of Club Penguin. I managed to place the Help Force above the Rebel Penguin Federation on the last Top Ten of January, after which I retired from the leadership.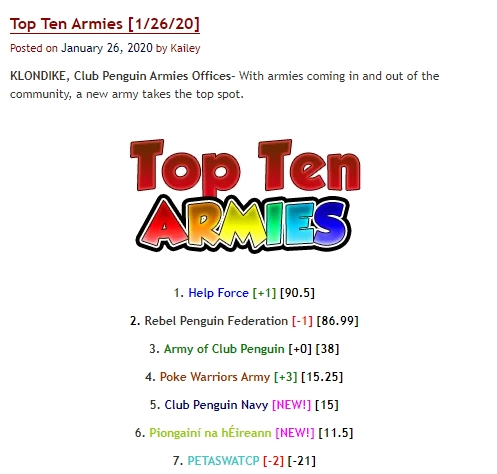 CP Army Media: In the early days of February 2020, army leaders of the major CPR armies got together and discussed the formation of a potential news outlet for the community. The "league-less" organization was spearheaded by myself, Emcee, Ulti, Pookie, and Koloway. Starting CPAM with just four armies (RPF, ACP, HF, OMA), we talked with the other armies in the community and convinced them to join us. I would personally like to thank all of the people who supported CPAM at its start. It wouldn't have been possible without you. Dissolving the first division within the CPR community, we held the Premier League Tournament which had eight armies in a round robin bracket. We went through several "merge talks,"and built CP Army Media to be the best and fastest news outlet in this community. Even though we faced a lot of backlash, a bunch of dramatic situations, and arguments within our staff team and advisory board itself, our unity as staff, as a community, and as a team contributing to one organization never broke a part. I commend each one of you who has contributed to CPAM by any means. We broke our own record of the highest number of views in a day (2,121). We managed to host the first-ever united tournament: Legends Cup X successfully. Together, we re-wrote history, and showed the community that success comes through cooperation.
Memorable Posts:
Drama Revolves around ACP: Hacked or Leaked?
Legends cup X: A Ten Year Legacy in the Making
CPAM Special Report: The Never Ending Multi-logging Saga
–
Mentions
I would like to thank everyone, who supported me, stood by me, was a staff member/troop under my leadership, colleagues, and several others whom I was in contact with through it all. Be it handling my weird noob-like behavior in those early months, or noticing my grammatical mistakes, I apologize for anything I have done wrong. In these 27 months of being in the community, there have been several people who had an impact on me. Below, I have listed and written a few words about some of them. Sorry if i've missed somebody, my loves public for everyone.
Dawgs
Elp: After all that we've been through, those bumpy dramas, to the weird marriages on Club Penguin, you've been there for me no matter what, and I can't thank you enough for that. The triads generation of the HF was one of the best experiences. Leading alongside your hype, and having fun wherever necessary, made it as amazing as it could be. You're the epitome of a true friend. Being there with me, through thick and thin, we've come a long way. This is not a goodbye to you. I'll keep pestering you on IG so that you can give me those "feeds." Thanks for everything Elp. #ElpyanForever
Spotty: You're probably the one person in this community whom I've been in contact with for more than two years. Keeping our petty arguments aside, thanks a lot for keeping up with me. You were a great leader, and I hope you get promoted in DW (wary). I remember how it was in 2018, and there's no comparison with what it is right now. Keep in touch with me, marry every single penguin in this community, and obviously don't ever lose that brit accent. I'll have to respect the beef between us, you 5'1 annoying cow.
Flen: It's interesting how our journey started from battling about website google ranks for about 6 months, and how you are one of my closest friends right now. You're an amazing person, Flen, who has even minute bits of information regarding literally everything. The amount of drama we've been through together is insane. I remember those 49 missed calls, voice chatting at 3 am, and what not, and I hate that it's just gonna end. You've been a vital part of the reformation of this community. Don't stress out and make rash decisions even if the whole world turns against you. You gotta keep it calm, and you'll be the best one out there. I'll see you soon, Flen, and stay in touch.
Eden: You are one of the few people I look up to. I remember how you reached out to me in 2018 after Water Ninjas got banned, and I just ignored you. I'm sorry for being a complete noob back then, but hey, at least I got on the right track. You've been a great companion Eden, a person who puts his morals above everything else. Keep me updated, and we'll obviously chat once in a while, for there will arise a wave of corruption once more, and we will eliminate it together, again, some time.
Emcee: You're a d e t a i l e d queen. I didn't think we'd become such good friends in just four months. Working alongside you was an experience i'll never forget. How can someone be so perfect in administrating and managing things? Maybe it's the age, innit… Thanks a lot for coping up with my chaotic schedules, my grammatical errors, and all above all, me myself. It's been a good ride Em, and we made CPAM the best it could've ever been. You were the sense of justice to my chaos, and that's how we strode towards success. We'll stay in touch MOM, we surely will.
Moon: I ain't saying much publicly, cause everything adds up to love. I hate the fact that you joined HF so late, and  how it lined up so closely to when I retired for the first time. You are a true friend, a successful and strong leader, and an amazing companion. Love you loads. See you in Chick Fil A <3
Help Force
Morty: Thanks a lot for helping and advising me in the beginning. You're a true legend Morty, and I wish you the best of luck with everything.
Kava: Hey Kaia Chips, how can someone sleep so much? Thanks for helping me out whenever needed, and keep grindin'.
Danilo: I doubt you'll even see this. Sorry for pestering you with e-mails every month. Love you Dan, email me back (I guess?).
Attacker: We built a community Justin, a great community. Thanks for donating to the Elo bot. Love you.
Tistle: You're a great leader Tistle. I gave up on HF when this generation began. You have exceeded mine, and several others' expectations. Keep working hard, and let me know if you ever need anything. Unleash the power of helping.
Barnito: Hate it that I can't call you by your real name here. You're one of the most hardworking people I've ever met. Thanks for the memories. AUSIA Gang forever.
Flypin: "Daughter," it's not really a goodbye for you since you'll spam me on IG anyways. Keep up the hard work, you've come a long way. Sending some Kit Kats and NSFW jokes your way.
Friends/Influential People:
Retxro

Lisa

Harout

Rorange

Shoto

Jayden

Retxro (Skel)

Mess

Snowflaxe

Potato

Crystal

Christene

BestPenguin

DaSwagger

Pandabelly

Kiwii

Rope

Hannah

Kendall

Jason

Juanita

Lottie

Aoao
CPOAL/CPAL
Tyler (Blueink): How's it a year already Tyler, since the LT war? Thanks for the memories, and those coffee shop dates (I was a third wheel but whatever). Stay in touch.
Epic101: It's been a great ride, sire. Thanks for all those moments of beef and battles we had in 2019. Still pissed that you muted my penguin for sitting on you and recruiting tho 🙁
LuciferStar: We haven't been friends for a long time, but you're an amazing person. Good luck with CPAH, and I hope you can steer the community to a bigger future. We'll stay in touch.
32op: Give me some kulfi before I leave Discord. Love you 32 (salutes). HF won against DCP, hah.
Friends/Influential People:
Xing

Romeo

Bucky

Twaseen

Tobercold

Jazmine

Freezie

Zamb

Mehakk
CPAM
Pookie437: My love, my HF prom date, how would I survive without you? It's been a great ride with you, Pook. Never forget those nights you had doing the Top Tens with me. Good luck with CPAH, and believe in yourself. Delta 16 gang gang.
Koloway: We haven't really shared the best moments together, but thanks for the bumpy CPAM memories. Would love to battle your ACP sometime again, those good ol' days. Wishing you the best of luck for the future.
Max: Reporting would've been lame without you. I'm pissed I couldn't beat you, but hey, top tens do not count. You're an all-rounder Max, love you a lot. Good luck with CPAH, and have those reporters be inspired by you.
Sanam: I fixed my sleep sched, so that you don't whine about it. Thanks for being a great friend Sanam, we'll obviously stay in touch. I hope you sort these penguin politicians out soon.
Friends/Influential People:
Ultipenguinj

DMT

Shad

CSY

Pjayo

Dino

Cassie

Sarahah

Rocket

Robot

Kingfunks4

Orange

Earthing

Edu14463

Cobra

Izzy

Superhero123
–
Final Words
Yes, I realize that I said it would be short, but I can't help it. Writing this wasn't easy. Recollecting everything you've been though in the past years, puts you in a place where you're full of nostalgia. I can keep writing about each incident which changed the community in several ways, but it's time we leave the past and strive for a better future.
Armies change people drastically. Not only has this community given me the chance to build something from scratch, it has given me exposure and skill to actually survive in the so-called "market" (virtually). Be it all of those diplomatic talks, or the administrative statements, CP Armies has embedded itself as a part inside me. I would like to extend my thanks to each person in this community, who logs onto their computer and gives time to this.
Nothing is certain. With the current situation, I've heard the phrase, "it's going to die soon anyways," several times. Does that mean we give up? No. Armies survived the closure of the original Disney's Club Penguin. Even though I stand here with no answer, armies are going to find a way out of this. This community is a cycle of troops and figures who check their Discord religiously everyday at 7 AM, and realize that it's all virtual. I've spent a lot of time in the various sectors of this community, and today I can proudly say that, we are in the process of uniting the community, once and for all.
We aimed for unity, and with that being done, it's time for me to end this phase of my life. It isn't going to be easy for me to not think about armies at all. Once the CP Army Hub is open to the public, i'mma dip. Got major exams coming soon, and I haven't touched a book for 1.5 years, thanks to Discord. Always remember that, YOU are the faces of this generation, you have the power to make it better, or to make it worse. Fight for justice, be involved, be updated, and most importantly, keep having fun. With that, I'll take my leave, but we'll probably meet again, if armies stay alive in 2021.
Signing off for the last time. Yours faithfully,
Ayan
(KitKat89 – Shade – Spencer)
Former CP Army Media CEO // HF Creator & Legend
Filed under: Administrative Announcements, CPAM Tagged: | ayan, Retirement